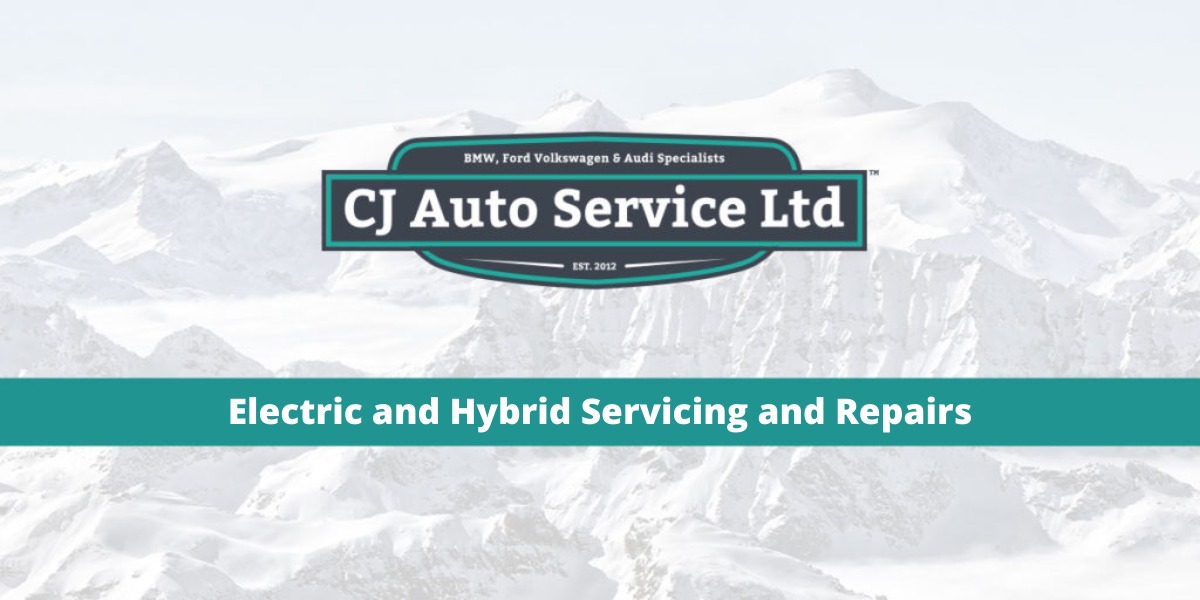 Electric Car Repairs & Servicing
Leading provider of hybrid car services in Warrington
Do you drive an electric car or a hybrid?
Electric vehicle (EV) maintenance is much simpler than a vehicle with a combustion engine – mainly because there are fewer parts to look after and a lot less fluid. Though hybrids are a little trickier to maintain, they often have lower CO2 emissions than conventional cars which is great for the environment.
Much like a diesel or petrol car, electric vehicles and hybrids need to be serviced on a regular basis. And here at CJ Auto Service, we are delighted to be the only garage in the Warrington area offering EV and hybrid servicing.
To find out more about our service and parts for electric vehicles, either call us on 01925 589 066 or email reception@cjautoservice.co.uk. 
Also known as DCT (Dual-Clutch Technology) gearboxes, BMW use them in some of their high-performance models. Porsche do too, only they use the PDK acronym which stands for Porsche Doppelkupplungsgetriebe – translating to Porsche double-clutch transmission – and they're known as Powershift gearboxes in Fords.
For the most part, electric vehicles demand less frequent servicing and EV maintenance is also less.
Unlike a combustion engine, there is no oil to change or filters to renew in an EV service. There is no cambelt or water pump to replace either. With fewer moving parts for the mechanic to check, servicing an electric car is easier and more cost-effective.
Electric vehicles use regenerative braking systems. This is where an electric motor slows the car down, and the energy used when braking is converted to help power the engine. You won't have to use the traditional friction brakes as often, meaning fewer disc and pad changes will be required.
In comparison to an all-electric motor, a hybrid service is a little more complicated as these vehicles have electric and fuel combustion components.
Technicians will need to ensure the high-voltage system is discharged, not only for their own safety but to ensure the engine doesn't start on its own. If this was to happen, it could cause serious mechanical damage and result in you needing a hybrid repair.
Hybrids have several parts that need to be checked, and you tend to have the requirements of a traditional service and an electric car service – all rolled into one.
Self-charging and plug-in hybrids are more expensive to service than conventional vehicles and electric cars. Also, it's worth noting that it costs more to service diesel hybrid models than it does petrol. The main reason for this is because diesels have more complex technology beneath the bonnet (i.e. extra emission control systems).
Book your EV or hybrid in for a service at CJ Auto Service
At CJ Auto Service, we want to make sure your electric or hybrid vehicle remains in peak condition for the most enjoyable and safest driving experience possible.
We appreciate that some parts may need to be checked, repaired, and replaced more frequently than others. That's why we provide hybrid and electric car repairs, as well as minor and major servicing in Warrington.
When you book an EV service or hybrid service with CJ Auto, we will identify any potential faults that require urgent attention. We'll also check wires for damage or loose connections, as well as the:
battery
brakes
electric motor
lights
steering
suspension
tyres
wheels
On top of this, we'll check the coolant levels. How often this needs topping up or flushing depends on the make and model of your car and should be stated in the manual.
Get in touch
If you would like to know more about our electric car repairs or the cost of a hybrid service, don't hesitate to contact our specialists. We are on hand from 8.00am till 5.30pm on weekdays, and 9.00am till 1.00pm on Saturday.
Alternatively, if you have any questions about booking your EV or hybrid in for a service at CJ Auto Service, we'd be more than happy to answer them for you. Simply give us a call on 01925 589 066.
Give us a call or fill in our contact form…
Frequently Asked Questions
Do hybrid and electric cars need special servicing?
Petrol and diesel cars have thousands of moving parts, whereas electric vehicles are made up of no more than 20 – meaning they're unlikely to require much attention.
Electric vehicles still require regular component checks for brakes, tyres, suspension and any other safety features, but there's no need for things like oil changes.
A technician will also need a diagnostic machine, to help them identify any potential problems. They'll also need to look over the wires for any loose or damaged connections.
Hybrid-vehicles are sometimes a little trickier to maintain, since they have components of both electric and conventional diesel or petrol cars – so they tend to have the requirements of a traditional service as well as an EV service, all rolled into one.
How often do hybrid and electric cars need servicing?
Hybrid and electric cars need servicing as often as the conventional petrol or diesel cars you might be used to.
It's a common rule to have any vehicle serviced every 12 months, or every 10-12 thousand miles – whichever comes first – and hybrid and electric vehicles are no different.
However, some parts may need repairing or replacing more than others, so it's important to keep this in mind.
At CJ Auto Service, we like to make sure your vehicle is in peak condition so that you can have the safest, most enjoyable driving experience possible.
If you'd like to book a service with us, give us a call on 01925 589 066 or email us at reception@cjautoservice.co.uk to get started!
Is servicing for hybrid and electric cars expensive?
If you're looking to cut down costs, you'll be happy to know that with fewer parts needing attention and less labour-intensive work required, you could save a considerable amount of money getting an electric vehicle serviced, as opposed to traditional petrol or diesel vehicles.
Again, hybrid vehicles are more complex, so servicing them can be slightly more expensive.
If you have any questions or require assistance with your hybrid or electric vehicle, get in touch with our friendly experts today - they'll be more than happy to help!
Can any mechanic service my hybrid/electric vehicle?
Yes!
Any trained, experienced mechanic will be able to take a look at your hybrid or electric vehicle.
Some tasks - like oil or filter changes - can even be a DIY job, but we always recommend seeking professional help to make sure it's done properly.
Our highly trained experts, here at CJ Auto Service, will ensure your vehicle remains in peak condition for the safest, most enjoyable driving experience possible.
Give us a call on 01925 589 066 or email
reception@cjautoservice.co.uk to arrange a service.
How long do hybrid car batteries last?
Most hybrid vehicle manufacturers say battery packs will last between 80,000 to 100,000 miles. Some models might even make it to 150,000 miles and beyond, but this all depends on your driving style.
While there are many theories on how you can make your car battery last longer, like coasting or slow take-offs for example, they haven't been proven to actually extend battery life.
The best way to maintain your hybrid or electric vehicle's car battery is to follow the recommendations of the manufacturer and stick to regular servicing. This way you can ensure your battery stays healthy for as long as possible.
How do I know when it's time for a new battery?
There are several tell tale signs that your hybrid or electric vehicle battery is on its way out, including:
• Strange engine noises
If your battery is overheating, you'll notice the constant sound of a running fan – which is bad for the battery and nearby components and will need to be looked at as soon as possible.
• Charging problems
Mechanical issues like corrosion, damaged wiring or bent pins can have a detrimental effect on your vehicle's charging system. If you notice your battery overcharging, undercharging or draining charge much quicker than usual, you should have your battery inspected.
• A decrease in fuel economy
If you find yourself making more frequent trips to the petrol station, it could be that the electric power isn't taking over from your internal combustion engine as often as it should.
This could mean your battery isn't charging to its full capacity or it's no longer retaining charge for as long as you would expect.
Why choose CJ Auto Service?
However your car is powered, with over 35 years of combined experience in the trade, you can be confident your vehicle is in good hands with CJ Auto Service – we're the ideal team to resolve any mechanical issues.
We offer a professional and comprehensive service at very competitive rates, and since 2012 have built an enviable reputation in the community for our reliability and quality of service.
If your next service date is approaching or you're experiencing issues with your hybrid or electric vehicle, why not book an appointment with us here at CJ Auto?
Give us a call on 01925 589 066 or email us at reception@cjautoservice.co.uk – our friendly experts look forward to hearing from you!